Pay Tuition
Special Program: Inglés integrada para principiantes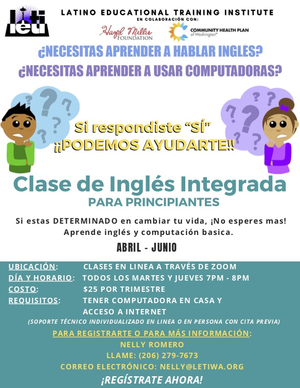 Este curso se enseña en inglés con apoyo bilingüe en español. Cuota de matricula $25 por semestre.
This course is taught in English with bilingual support in Spanish. Tuition $25 per semester.
Pay Here • Pagar Aquí
Prepayment Required • Se requiere pago por adelantado
After paying, you will receive an email confirming payment. We will receive a copy. Please note that if your registration is received less than three business days before the first class session you may be asked to present your copy of the acknowledgment.
Después de pagar, recibirá un correo electrónico confirmando el pago. Recibiremos una copia. Tenga en cuenta que si su registro se recibe menos de tres días hábiles antes de la primera sesión de clase, es posible que se le solicite que presente su copia del acuse de recibo.
Our payment and refund policies appear in the LETI Vocational School Catalog or in supplementary publications. Nuestras políticas de pago y reembolso aparecen en el Catálogo o en publicaciones suplementarias.