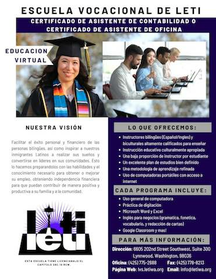 Haz clic en el imagen para agrandar, descargar o imprimir nuestro volero explicativo en español.
Welcome!

Current programs include office administration and practical bookkeeping, which are in demand and conducive to related and growing employment opportunities in business, non-profits, education and government. Additional programs are under development. Instruction emphasizes business English with support in Spanish.
The mission of LETI Vocational School is to provide a fast-tracked education and basic skills in Business Administration, Computer Technology and related subjects with the immediate goal of career advancement. We give special emphasis and support to help first generation Latino immigrants and injured workers to learn the skills and knowledge they need to become employed, obtain financial independence, and contribute to their own family and local community.
¡Bienvenido! La misión de la Escuela Vocacional LETI es proporcionar una educación acelerada y habilidades básicas en administración de empresas, tecnología informática y temas relacionados con el objetivo inmediato de avanzar en su carrera. Hacemos hincapié y apoyo especial para ayudar a los inmigrantes latinos de primera generación y a los trabajadores lesionados a aprender las habilidades y el conocimiento que necesitan para trabajar, obtener independencia financiera y contribuir a su propia familia y comunidad local.

Los programas actuales incluyen la administración de la oficina y la contabilidad práctica, que tienen demanda y propician oportunidades de empleo relacionadas y crecientes en negocios, organizaciones sin fines de lucro, educación y gobierno. Se están desarrollando programas adicionales. La instrucción pone énfasis en inglés comercial con apoyo en español.